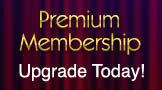 2. Right Box (Natural) Turn
Fact Sheet
Official Name:
Right Box (Natural) Turn
Dance / Level:
Beginning Bronze American Style Waltz
Aliases:
Box Step, Right Box Turn, Natural Turn, Closed Natural Turn, Natural Chasse Turn
Suggested
Prerequisites:
None
The Right Box Turn, like its counterpart Left Box Turn, gets its name from its box-like shape when danced without turn. When it does turn, however, it turns to the right (i.e. clockwise), hence the name Right Box Turn.
The Right Box Turn consists of 6 steps, an inverted version of the Left Box: Forward, side, close, back, side, close. The forward step, however, is taken with the right foot, while the left foot takes the back step.
The amount of turn taken over the 6 steps is optional -- anywhere between 1/8 and 1 full turn to right. With any less than 3/4 turn, the Box becomes a spot movement, used for turning corners, realigning oneself to set up for a particular pattern, or for confining oneself to a small area of the dance floor (the latter of which is particularly handy in crowded nightclub situations).
Advanced dancers will use the Right Box Turn to travel down the line of dance, but this must be done in a very specific way. The man must begin facing a diagonal wall alignment, and take the Right Box Turn with exactly 3/4 turn, to end facing diagonal center. This is usually done in combination with the Left Box Turn, resulting in a sequence of consecutive turns which enable the dancers to travel around the line of dance.