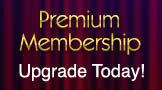 American Style Tango
Underarm Turn to Left from Side-by-Side
21. Underarm Turn to Left from Side-by-Side
From side-by-side position, the leader can lead an underarm turn to left, to the counts of "Slow, Slow", ended in open facing position with man prepared to step forward, outside partner on lady's left. From here, there are two standard endings: (1) a Tango Close from left side position, or (2) a Release to Side-by-Side from left side position.
When ended side-by-side, the figure is, of course, repeatable. In this configuration it turns a total of 1/2 to left, so if danced as written in the techincal charts, it will begin with both partners facing wall and end with both facing center. Dancing it twice in a row would turn the dancers back to their original alignment. This makes it possible to dance on almost any alignment, although care should be taken not to stay in one place for too long.
When ended in closed position and taken with 1/8 turn to left over the Tango Close, the figure ends with the leader facing the same alignment he began. If begun facing wall, it can end facing wall. This makes it easy enough to choose a workable starting alignment (e.g. facing wall, diagonal wall, line of dance or diagonal center). Adding the possibility of up to 3/8 turn to left over the Tango Close, as well as other Tango Close variations, the possibilities multiply and almost any beginning alignment can be made to work.
The video demonstrates both versions of the figure danced twice in succession, first with a side-by-side ending, then with a Tango Close ending to finish in closed position.
There are two popular interpretations of the foot actions during the underarm turn itself:
Dancers can emphasize the contnuous quality of the walking action, turning smoothly and gradually throughout. This has the appearance of "stalking" one's partner.
Dancers can emphasize the turn by dancing a more pronounced swivel or fan action after each step. In this way, the timing can be counted "quick-quick-quick-quick", where the each walk is counted as a "quick", and the swivel actions themselves are are counted "quick".
In addition to the two endings given in the technique charts, steps 1-2 can be followed by almost any Bronze or Silver level figure where the leader starts forward on his left foot. Two things to keep in mind when combining figures in this way:
The first step will be taken in an open facing position with the leader stepping forward on his left foot outside partner. Figures that rotate or change direction quickly from that position, such as Rock to Corte, will be much more difficult to execute from that left side position and only a single hand hold. It will either be necessary to close the hold immediately at the conclusion of the underarm turn, or maintain enough tone in the LH-RH hold to lead the movement effectively.
The 2-bar (or 8-beat) phrasing in American style Tango is important, and the figure as written is already perfectly phrased to be 8 beats in length. By dancing only the first 4 beats and following with another figure, that phrasing is momentarily interrupted. For example, if 1-2 of the Underarm Turn to Left is followed instead by an 8-Count Basic in left side position, the total length will be 12 beats. When improvising or choreographing, a solution should be sought to complete the 8-bar phrase, such as adding an extra Tango Close, or omitting the next one.