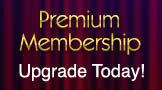 25. Drag Hesitation
The Drag Hesitation is a popular substitute for the Progressive Chasse to Right, as both figures serve the same function, and begin and end with the same foot, dance position, and alignment. But what the Chasse does in four steps, the Drag Hesitation does in just two. One might choose the Drag Hesitation in lieu of the Progressive Chasse to Right for the sake of variety, or simply as a matter of preference.
The Drag Hesitation is taken with man facing diagonal center and begins very much like the first two steps of the Foxtrot Change of Direction. The man steps forward on the left foot, then side on the right foot, turning 1/4 to left. The left foot then closes to the right foot without weight, and the bodies overturned slightly in order to make room for the lady to step outside partner on the man's right side on the following step. The last step -- left foot back, lady outside -- represents the first step of the following figure. The lady's part is the natural opposite.
A popular variation of the interpretation is to dance the Drag Hesitation with strong sway and without foot rise. On step 2, both man and lady step sideways with toe-heel footwork, knees flexed, with a pronounced sway (man to left, lady to right). As the free foot closes without weight and bodies overturned slightly, the sway is either straightened, or taken to the opposite direction (man to right, lady to left). In the latter case, the sway would straighten as the first step of the following figure is taken.